On this post I maintain an up-to-date list of the best available promo codes and coupons for Reclaim Hosting (at reclaimhosting.com) for November of 2023.
Be advised! Reclaim Hosting has major flaws; read my review here.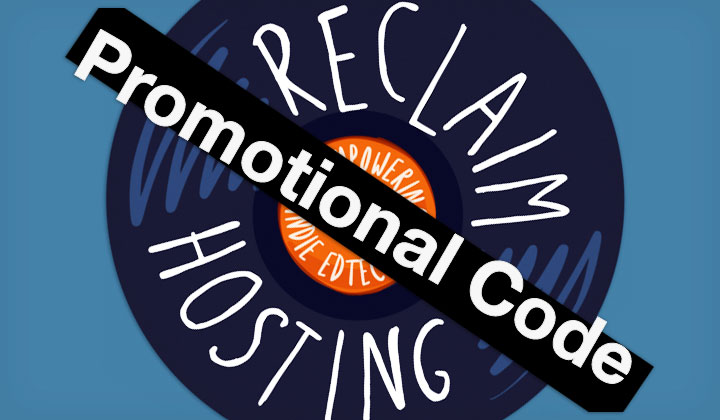 Dubbed as "best student web-hosting" — Reclaim Hosting brings exceptional value for an exceptional price; doesn't end there though: read below for max 20% discount.
New Offer!
Complementary SSL certificate to host your website on HTTPS for free..
— –> Click here for more info!
Reclaim Hosting Promo Codes
This is the best offer available — not a huge discount but the pricing is extremely low already and why not save a little extra if you can. Enjoy.. 🙂
Best Coupon 20% OFF >> WEBHOSTWHAT20
Valid for 2017 — should work for all hosting plans, if not try the one below.
Second Coupon 10% OFF >> WEBHOSTWHAT10
Valid for 2017 — works on all hosting plans.
Reclaim Hosting Plans
The main difference between the different available hosting plans is the amount of allowed storage — as all come with unlimited bandwidth.
Personal — for Student/Individual
Max. 2GB Storage
Free Domain
$30/year (or $24 with above coupon)
Professional — for Faculty/Professional
Max. 10GB Storage
Free Domain
$50/year (or $40 with above coupon)
The Works — Organizational
Max. 100GB Storage
Free Domain
$100/year (or $80 with above coupon)
About Reclaim Hosting
Founded in 2013; Reclaim Hosting is a favored hosts amongst students and educational institutions. It also provides affordable web-hosting to other individuals and businesses — as you are not required to be a student to sign up for their services.
It is a low-cost option for those who still need a quality platform with ease of use and great customer service in mind.
Comments & feedback is very welcome, thank you!
Notice for readers; this blog and it's contents have affiliate links in them which means that at no additional cost your voluntary support may pay out commission to the author. My most sincere thanks if you choose to consider any such third-party services.
Found this post useful? I would be most delighted if you share it.
Best regards, Tim.