I wrote this guide & review for UK based users ONLY. With no-brainer, step-by-step instructions on hosting WordPress on HostGator, blazing fast for UK visitors.
As well as all the essentials on HostGator UK servers reviewed.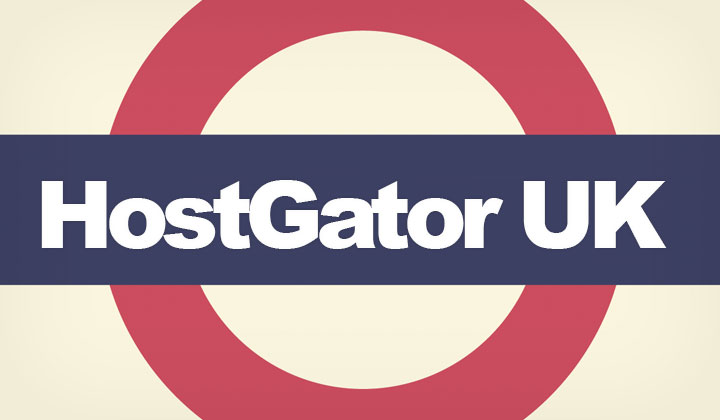 HostGator UK Review
First, I'll cover the details and then get to the instructions (with pictures, hooray!) later, that you can easily follow step-by-step for WordPress and other sites.
Is HostGator suitable for UK Hosting?
Absolutely. HostGator has been praised by UK media outlets and a good chunk of their 2million+ customers are based there (see their awards here).
But likely the best way to answer the question is this;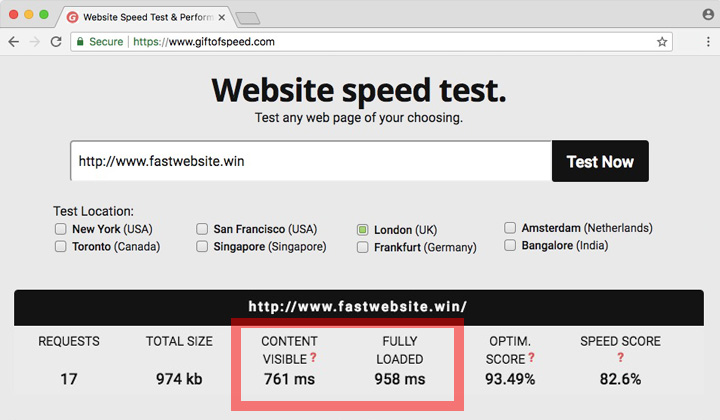 For testing purposes, I set up a poorly optimized, and heavy to load WordPress website (the homepage 1MB in size!!) to see how fast HostGator really is.
After following the steps below, on average the site loaded in less than a second from London, UK. That is slightly longer than the blink of an eye.
HostGator options for UK Hosting (depending on requirements)
HostGator US data center based web hosting
Optimized CDN (Content Delivery Network) web hosting
First this! Conduct your own HostGator UK speed test here.
If you find that the speeds are not adequate, or you simply want your website to work as fast as possible, consider using a CDN provided by HostGator.
Still for most users, regular US based HostGator plans without a CDN are perfectly suitable for what they are known for, high performance hosting.
Also using a company that hosts it's website from a high quality US data center is often favored over UK based servers, as it can provide a better, more stable connection globally. Most connected route in the world is between US & UK.
HostGator has a multi-tier datacenter (meaning it's directly connected to several internet providers) to maintain this connection at all times (read more here).
Optimizing UK speeds, and performance on HostGator
Then the fun stuff! HostGator has partnered with SiteLock which provides a neat package for security, speed-minded web-masters. It includes;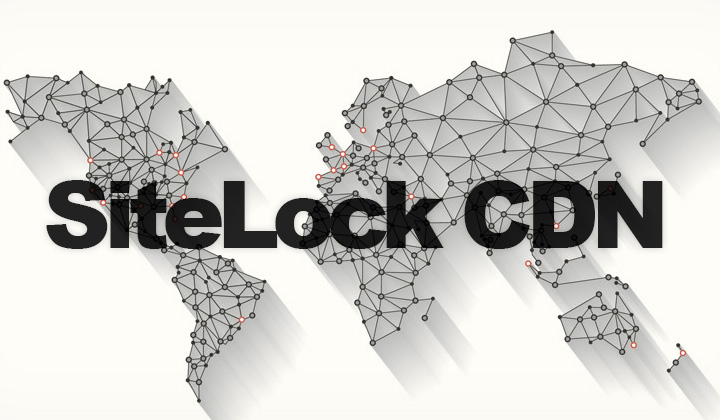 The way it works, is that your website content is distributed through their network which has servers all over the world. In this way, websites become much faster by automatically using a server country location nearest to the visitor.
With it your WordPress or any other site can decrease it's load times, up to 50% faster on average from the United Kingdom (UK), and anywhere else globally.
Enabling HostGator CDN
Even if you don't understand all of it yet. Not to worry! Just follow each step below, and you will have an extremely fast, low-latency website from the UK.
Step 1. Purchase HostGator hosting with "Protect Your Site from Hackers" add-on (this includes SiteLock's CDN (Content Delivery Network).
Use this link to get the current, best pricing option..!
Optionally, you can also purchase the SiteLock add-on at a later time, but it will be more expensive ($2.09/month instead of $1.67/month during signup).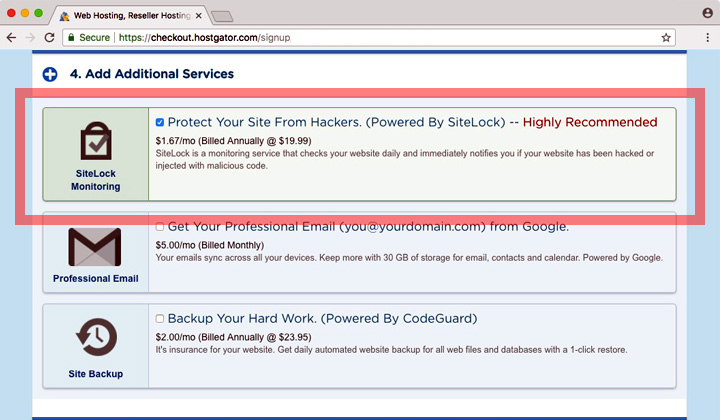 I recommend selecting one of the cheap shared hosting plans (Hatchling, Baby or Business), you can get excellent performance without the need of more expensive Cloud Hosting, Optimized WordPress, VPS or Dedicated solutions.
Please note, that on top of TrueSpeed CDN, the service includes protection from malware, hackers and other threats. This is normally priced at $199.99/year and available through it's HostGator partner from $19.99/year.
Step 2. Navigate to your "HostGator Customer Portal" (instructions in email).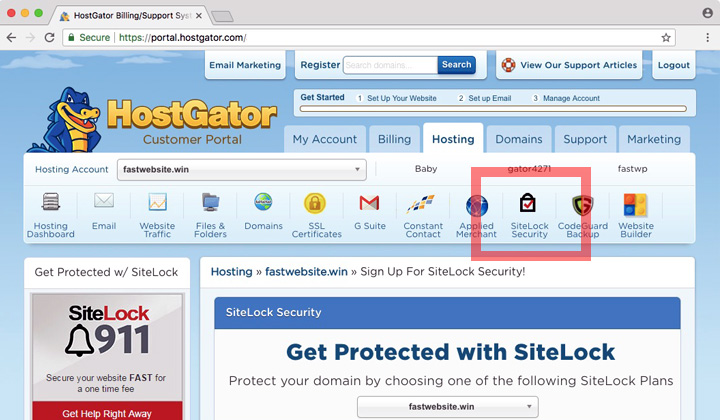 Step 3. Under "Hosting", click on "SiteLock Security".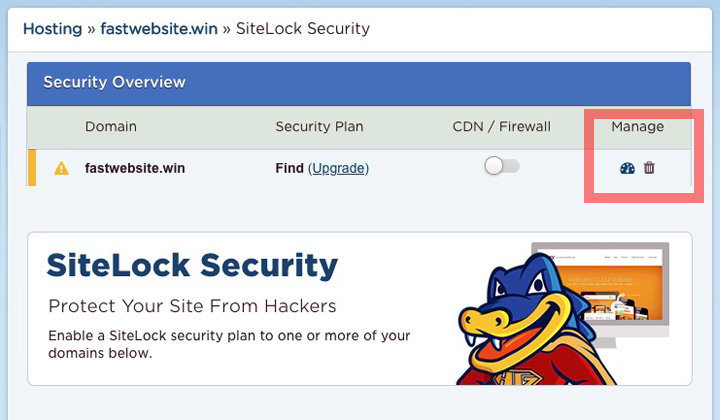 Step 4. Click on the Dashboard Icon of your website, under "Manage".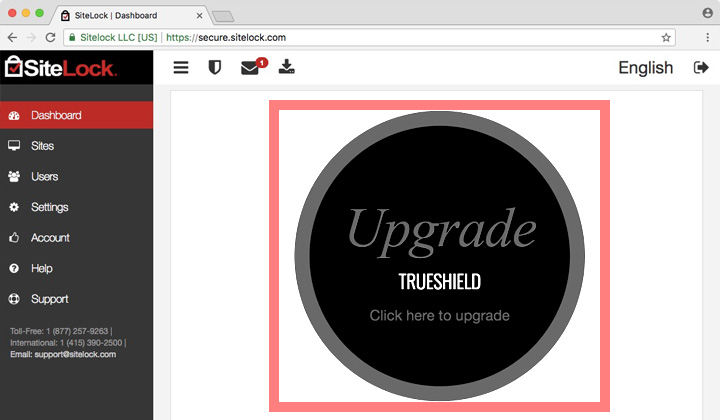 Step 5. It will open a new window, to the SiteLock dashboard. There are several circles, scroll down to the bottom and click on the one that says "TrueShield".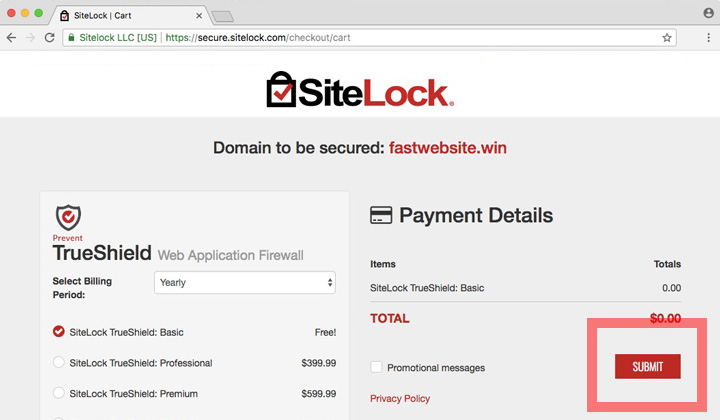 Step 6. Click on the "Submit" button to secure website. Basic TrueShield is free.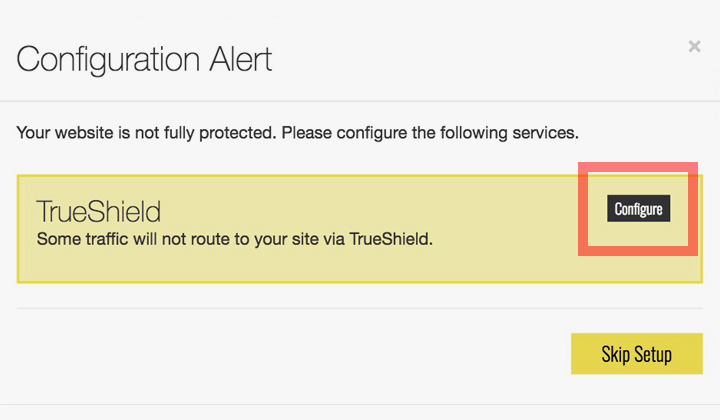 Step 7. Next you will see a configuration alert, click on "Configure".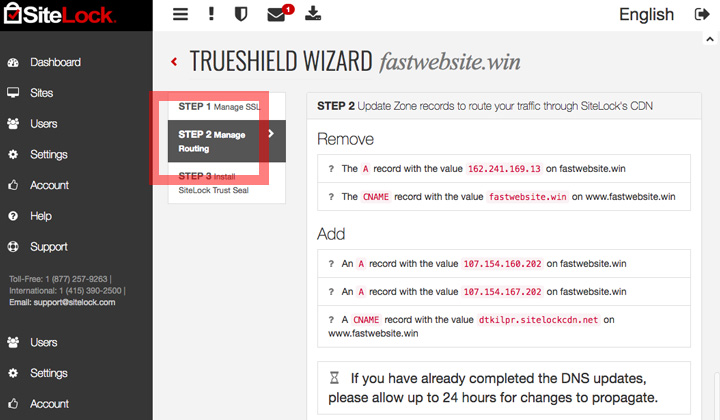 Step 8. Go to "Manage Routing". Take note of three values under "Add" section.
A record with the value [IP-ADDRESS-NUMBER-1]
A record with the value [IP-ADDRESS-NUMBER-2]
CNAME record with the value [CNAME-URL]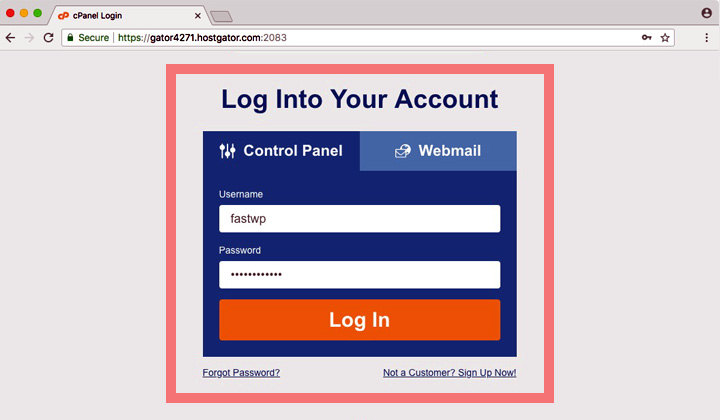 Step 9. Enter "HostGator Control Panel". See email for link and login details.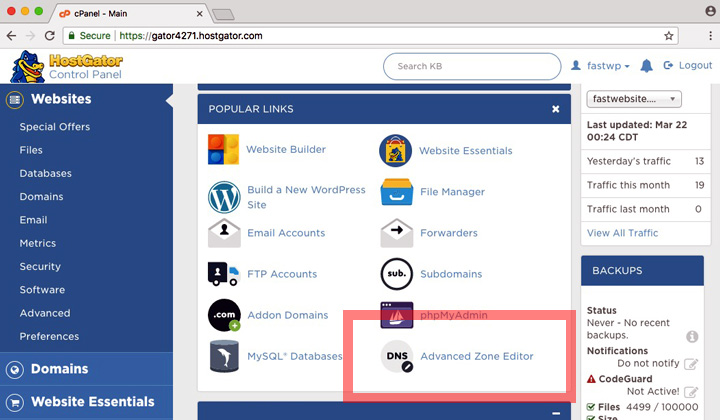 Step 10. Click on "Advanced Zone Editor" — last configurations here!
Or!! If you don't want to configure this last step by yourself, you can also just contact HostGator support and ask them to do it for you.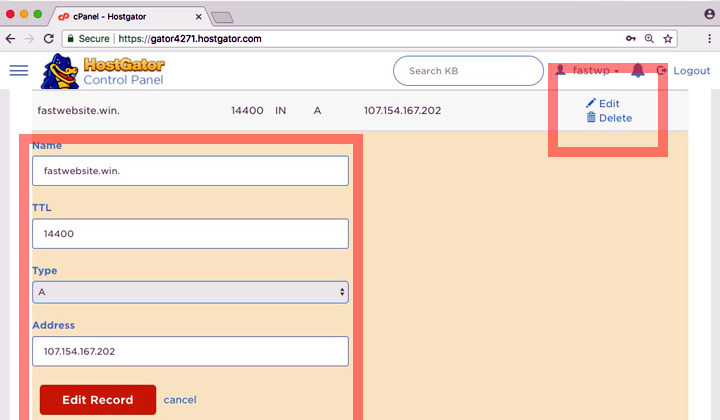 Step 11. Look for the line that has the URL of your website and "A" under "Type". There click on "Edit" and type in the following records;
Name: yourdomain.com
TTL: 14400
Type: A
Address: [IP-ADDRESS-NUMBER-1]
Then save the edited records with the red "Edit Record" button.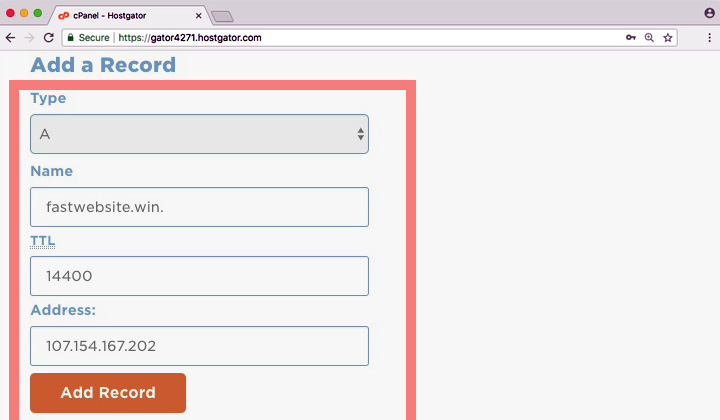 Step 12. Next use the above "Add a Record" section for the second IP address.
Type: A
Name: yourdomain.com
TTL: 14400
Address: [IP-ADDRESS-NUMBER-2]
Then save the added records with the red "Add Record" button.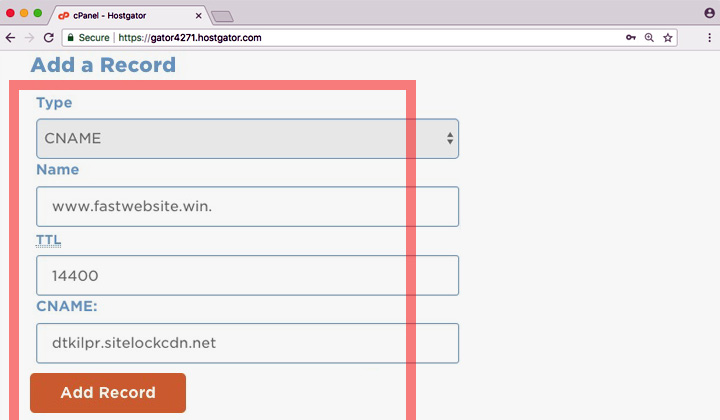 Step 13. Finally add CNAME records for your domain like below;
Type: CNAME
Name: www.yourdomain.com (remember the www in the beginning!)
TTL: 14400
CNAME: [CNAME-URL]
Again, save the added records with the red "Add Record" button.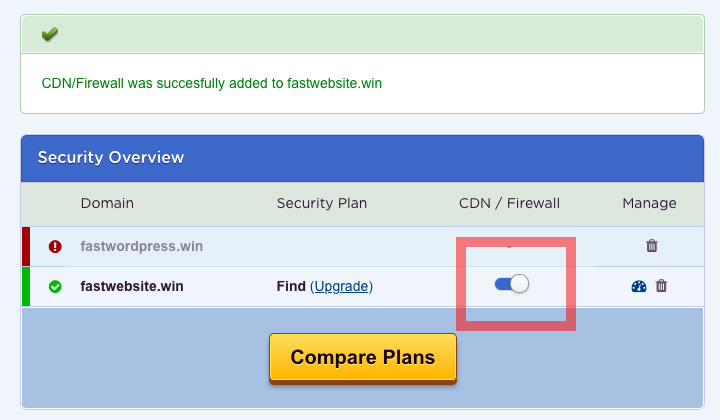 Step 14. Now you can go back to the "Customer Portal" and flip the CDN/Firewall switch to ON. It should say, "CDN/Firewall was successfully added to domain".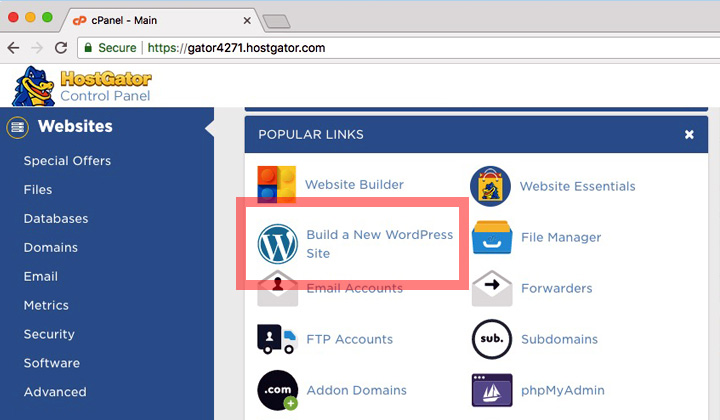 Step 15. That's it! Your site will enjoy fast CDN speeds, globally and in the UK.
Now you are ready to go to the control panel and start building your new WordPress site. Or you can, migrate your old website to HostGator for free.
Do note that the CDN won't work immediately, it takes time for it to cache your site and spread through the content delivery network. Rest assured, performance of UK and other visitors will greatly improve over time (within the day).
HostGator CDN with SSL
Please consider the below, if you want to host your website securely with HTTPS, using an SSL certificate. This is a bit tricky, so bear with me!
Unfortunately, HostGator's cheapest SiteLock plan does not support SSL.
There are two available options;
Upgrade SiteLock TrueShield to Professional ($399.99/year), Premium ($599.99/year), or Enterprise ($799.99/year) all which support SSL certificates.
Or purchase SiteLock's Prevent Plan ($49.99/month) from HostGator, which includes TrueShield Premium and supports SSL certificates.
Obviously all of these are very costly.
And I would highly recommend saving your money. It is simply not worth it.
Instead, you could use Bluehost Hosting.
Bluehost and HostGator are the same company. Both extremely popular, hosted on the same data center, with same support and same pricing.
Except that while many features and quality are the same, Bluehost supports a free CDN and SSL certificates with Cloudflare, without any additional cost. It's easy to setup, and a popular way to host WordPress websites, fast for UK visitors. I'm sorry to say, that HostGator itself has stopped their support for Cloudflare.
Instructions on setting up free Cloudflare CDN on Bluehost over here!
Other UK Hosting Alternatives
UK Data Center Alternative;
If you are looking for and prefer a web hosting company, with an actual data center location in the UK. For local business for example;
I highly recommend FastComet with a London datacenter.
They provide fully featured, highly reviewed and fast SSD hosting with constant pricing. Meaning, that unlike HostGator and Bluehost, the low initial pricing will remain for life. You also get plenty of benefit from their free domain for life, free SSL certificates to host your website on HTTPS. And free WordPress migration service.
You can see a comparison of HostGator VS FastComet here.
CDN Alternative;
Do you still prefer to host your site with HostGator? Of course, there are also other alternative third-party CDN services, which support free SSL certificates and are cheaper to use. But HostGator will not provide support for them.
Still most CDNs are very costly, and targeted towards big business with heavy-traffic websites. However, one service is different, standing out from the rest.
BunnyCDN is cheap, easy to use and provides fast content delivery.
You can grab a free trial and get to review them if you are willing to learn things for yourself. Or just host your site with ordinary shared HostGator hosting!
Best discounts on HostGator plans here to get started.
All questions related to UK Hosting, HostGator plans, content delivery with CDNs and anything related this way. I am happy to answer them!
I hope you enjoyed this UK Hosting review for HostGator!
As a HostGator customer myself, I will update this post with more, or up-to-date information as necessary.  And please, if you benefited from this article, I would be thrilled if you shared it with others on your blog or through social media.
HostGator partner "SiteLock TrueSpeed CDN" provides servers in the following, global country locations (with several city locations depending on country);
Canada, Israel, Netherlands (Holland), Germany, United Kingdom (UK), Spain, Italy, Russia, France, Sweden, Austria, Poland, Switzerland, Hong Kong (China), Singapore, Japan, New Zealand, Australia, Brazil, Portugal, Greece, United States (US).
However fast speeds are not restricted to these countries, low-latency performance is also provided for nearby countries from all over the world.
Also!! A portion of the links contained within this post and others are affiliate links, this is to support my work as well as provide quality content. This does not change the pricing or any third-party site in any way. Humble, huge thank you! Tim.