Find out how to host your site fast in France with HostGator Hosting by using a French or US data center, and how to switch hosting language to French.
Enjoy my easy, step-by-step guide!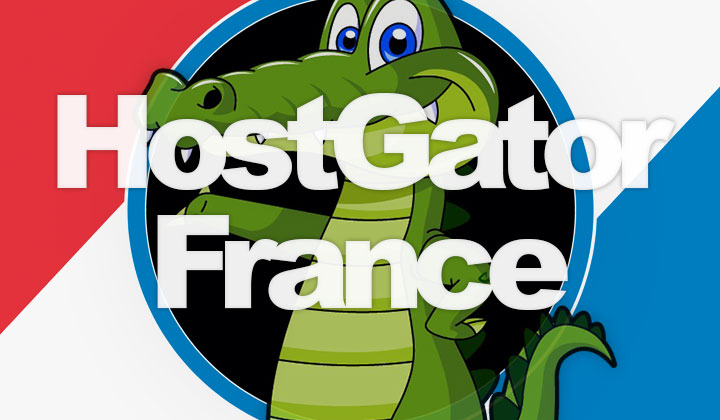 Useful links for hosting in France;
HostGator France Review
HostGator offers affordable web hosting to global customers. Including those located in France, can enjoy fast speeds on their US base data center.
Their servers are connected to multiple internet service providers to automatically route the best possible connection between US and France, as well as rest of Europe. Making sure that  sites stay up and running at all times.
For businesses, wanting to optimize site speeds not just in France but throughout the world, HostGator provides hosting through a CDN, or global data center network. This network automatically delivers website content from servers in France and other countries, to minimize distance between server and visitor.
Check out HostGator's TrueSpeed CDN, provided in collaboration with SiteLock, an online security company. This is either free or affordable, depending on plan.
Hosting options with HostGator in France;
Host through US data center with good connection to France
Optimize speeds with TrueSpeed CDN for best global connection
To evaluate your needs, testing HostGator speeds from France is recommended. Not all site owners necessarily need a CDN but many can benefit from it.
CDN for France & Global Hosting
Follow these simple instructions on how to enable TrueSpeed CDN for very fast page loads in France and pretty much all other corners of the world.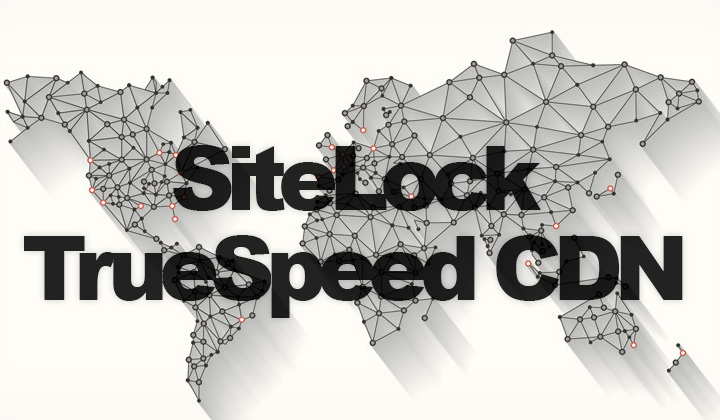 Check out the SiteLock web security and CDN package which enables fast content distribution throughout servers in 22 countries.
One of their data center locations is in Paris, France. So if for example, a website visitor is located in Marseille, the CDN will likely deliver the site from Paris. Depending on what is the fastest low-latency route at the moment, this could also be a nearby country like Spain, Italy, Switzerland, United Kingdom (UK), etc.
SiteLock states that average site load times improve 50% (source).
Here are the steps you can follow, with simple instructions!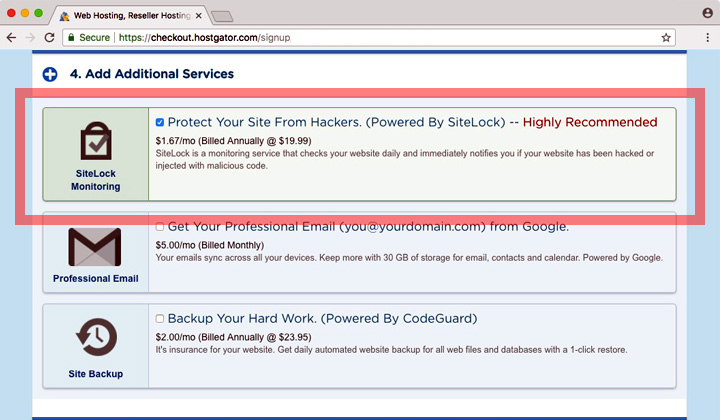 Step 1. Either obtain the "WordPress Hosting" plan which includes the CDN for free. Or choose "SiteLock Monitoring" service on checkout which includes it.
The service will be somewhat more expensive ($2.09/month) if you choose to include it later. So getting it during hosting plan sign up is recommended!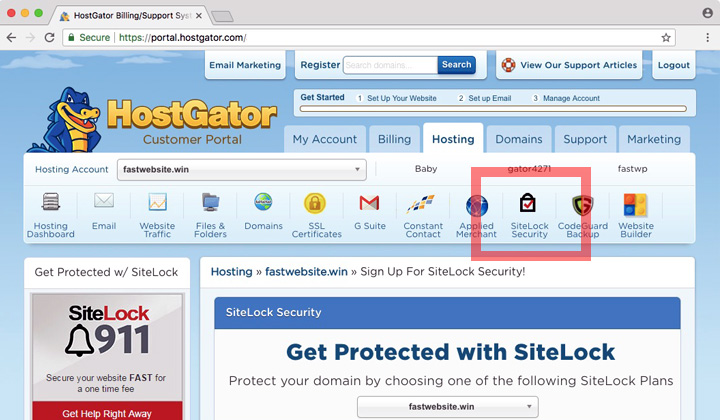 Step 2. Choose the "SiteLock Security" icon in Customer Portal.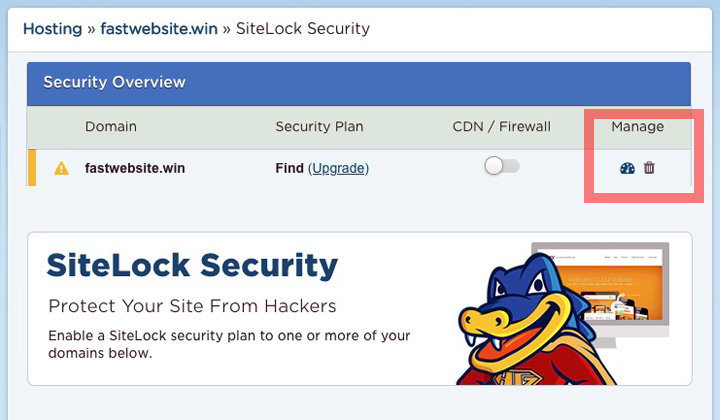 Step 3. Select the dashboard icon next to your domain, in security overview.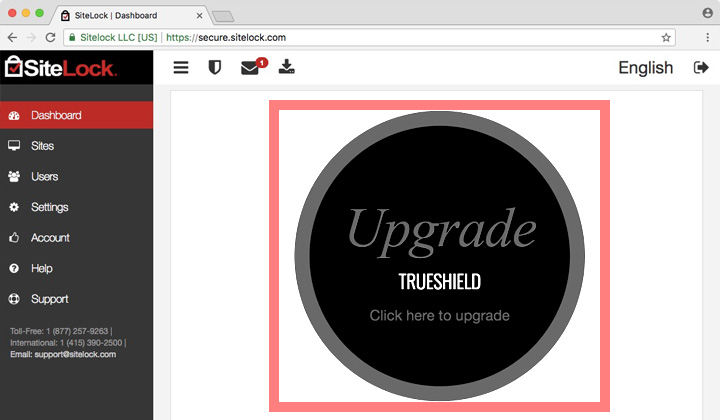 Step 4. You'll find the "Upgrade TrueShield" button from the bottom of this page, click on that. Optionally, change language to French from top menu.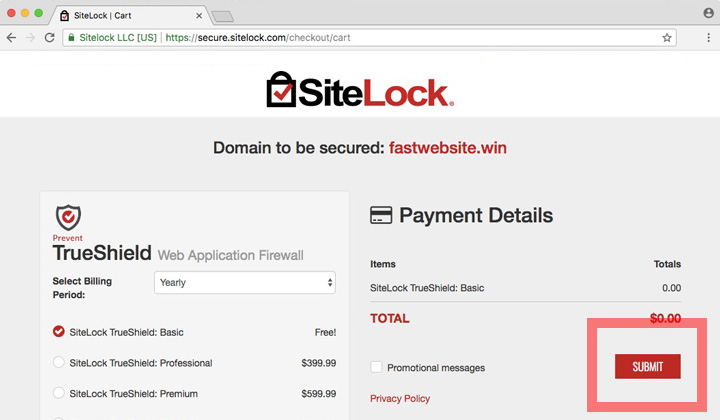 Step 5. Continue with "Submit" button for free SiteLock TrueShield.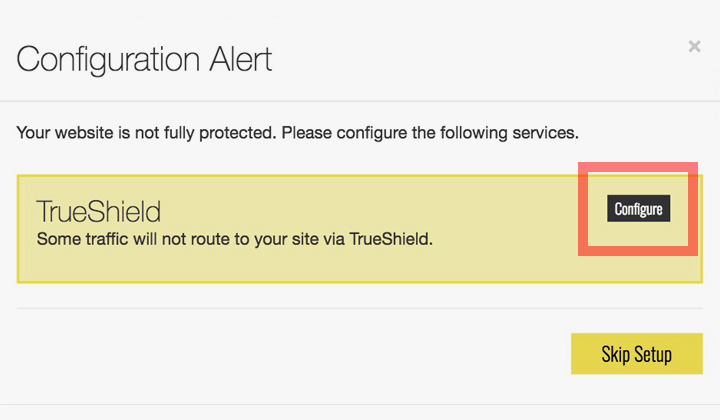 Step 6. Continue with the "Configure" button in pop-up window.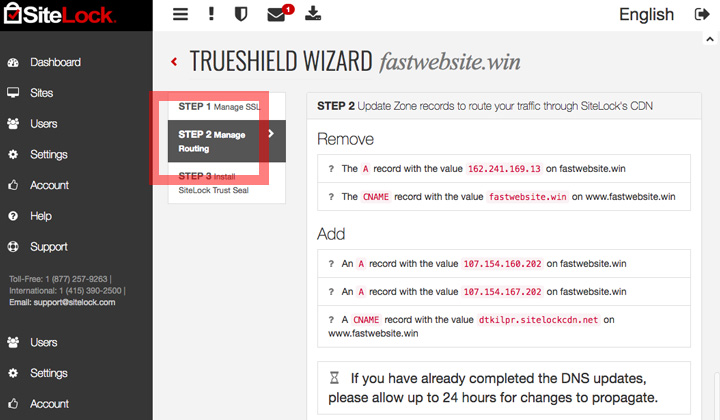 Step 7. Take down "Add" records for your domain, under "Manage Routing";
[1] A record (example; 107.154.160.202)
[2] A record (example; 107.154.167.202)
[3] CNAME record (example; abcde.sitelockcdn.net)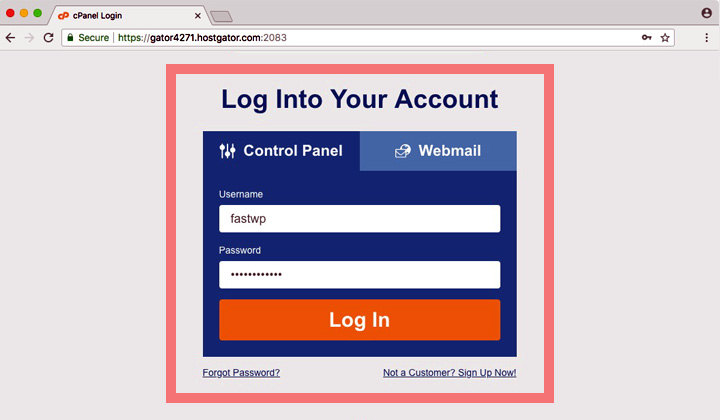 Step 8. Login to the "Cpanel" or "Control Panel".
Please note, that WordPress Hosting plans don't have cPanel. Instead, contact support and give them the three domain records to change for you.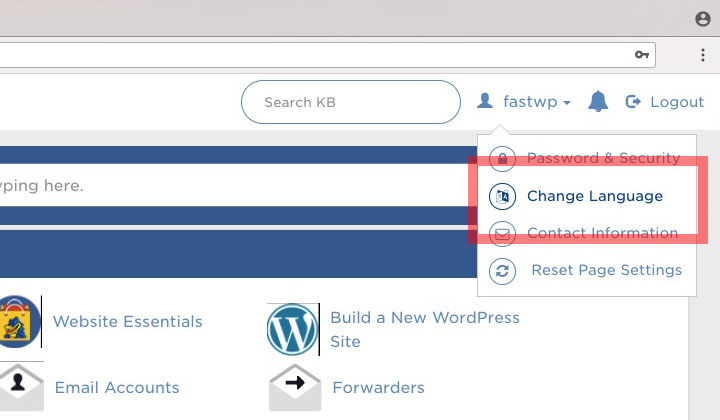 Step 9. Optional, change hosting language to French in top menu.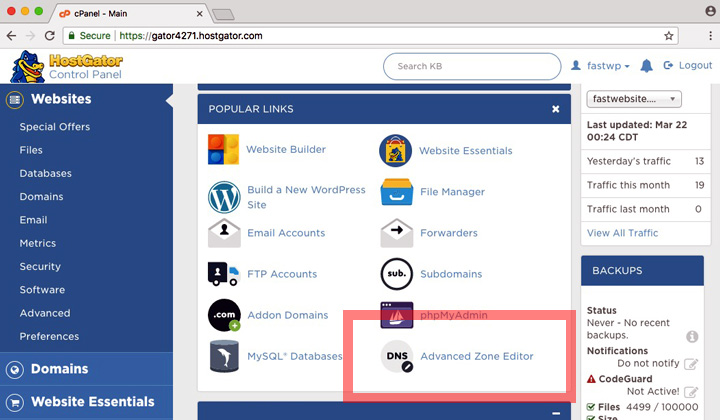 Step 10. Go to "Advanced Zone Editor" to change domain records.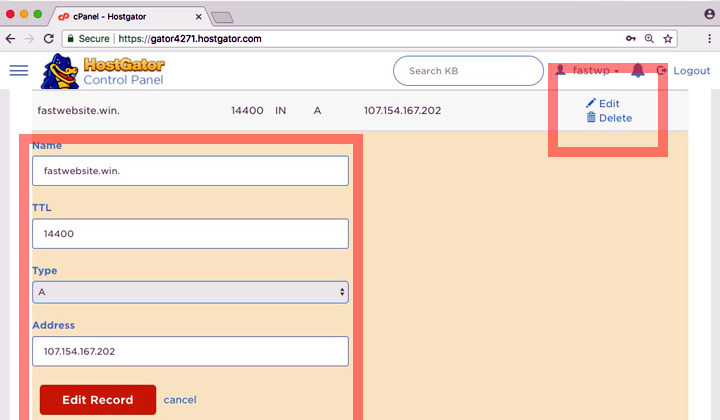 Step 11. See the "A record" line that has your main domain name (see above example), and click on the "Edit" link to change records.
Name: francewebsite.fr
TTL: 14400
Type: A
Address: [1] A record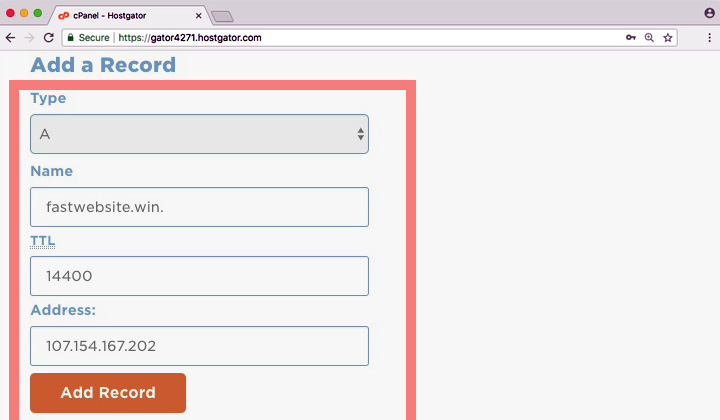 Step 12. Use the "Add a Record" feature to add a second A record.
Type: A
Name: francewebsite.fr
TTL: 14400
Address: [2] A record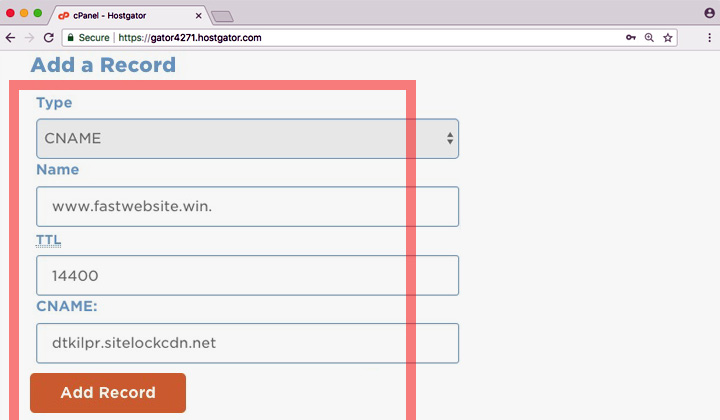 Step 13.  Add the final CNAME record like this;
Type: CNAME
Name: www.francewebsite.fr (include 'www' in beginning!)
TTL: 14400
CNAME: [3] CNAME record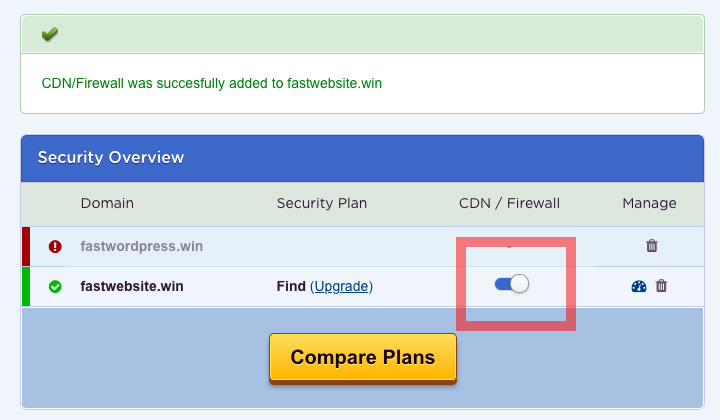 Step 14. Back in HostGator Customer Portal, turn on CDN/Firewall!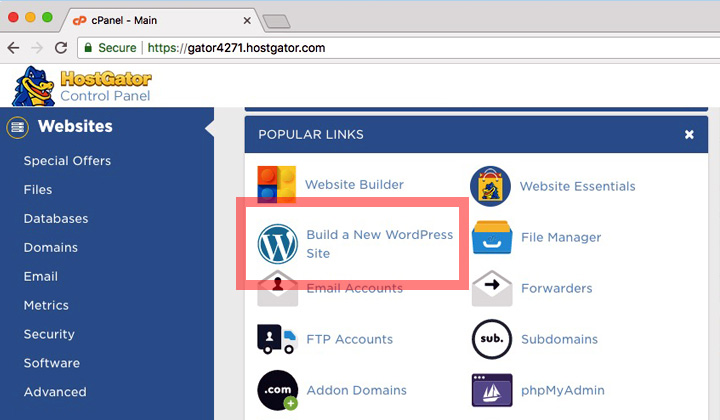 Step 15. Done! Start building your site or migrate your old site for free.
Over time, site contents spread throughout the network which increases speeds in France and elsewhere gradually. Everything from there is automatic, and there's nothing else you need to do. And since TrueSpeed CDN is officially supported, you can reach out to support at any time if you have issues or questions.
Note that the security features included in the SiteLock package are limited.
HostGator CDN and HTTPS
If you want to use an SSL certificate to secure your site with HTTPS in conjunction with the CDN, you would need to upgrade to "Prevent Plan". But this is $49.99/month and not really recommended as there are cheaper solutions.
Alternatives to HostGator France Hosting;
FastComet — Hosting in Amsterdam, for best Europe connection. Free CDN & SSL as well as a free domain for life. All with flat low-cost pricing.
BunnyCDN — Normally CDN solutions are expensive, but this is extremely cheap for it's high quality. Easy to use despite lack of HostGator tech support. Network includes France data center in Paris for optimal speeds.
That's the end of this review on France hosting with HostGator.
Thank you for visiting and comments welcome!
TrueSpeed CDN on HostGator includes these country locations;
Canada, Israel, Netherlands (Holland), Germany, United Kingdom (UK), Spain, Italy, Russia, France, Sweden, Austria, Poland, Switzerland, Hong Kong (China), Singapore, Japan, New Zealand, Australia, Brazil, Portugal, Greece & United States (US).
Note that there's no specifically localized France site version of HostGator website, such as HostGator.fr, use the US based main HostGator.com site.
And for your information there are affiliate links in some of these reviews on my blog. Big thanks for support which is voluntary and free. Sincere regards, Tim.